Trading platforms comparison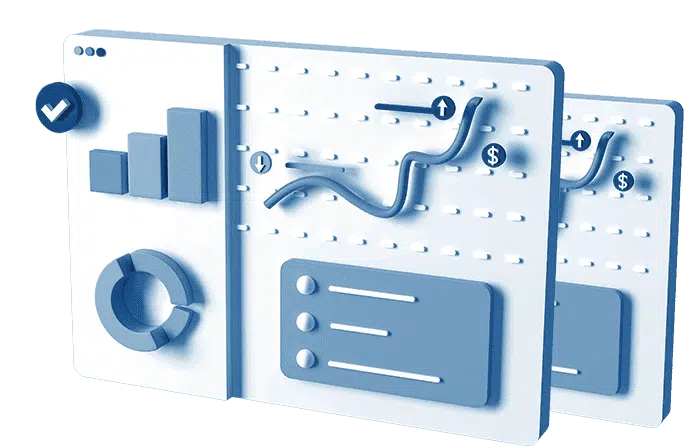 Table Of Contents
The Top 5 Things to Look for in Trading Platforms
There are many factors to consider when choosing an online trading platform. Features, functions, and fees rank among the top considerations for many South African traders. Online trading platforms are only as good as their ability to execute trades in a timely fashion, with up-to-date pricing, and a full spread of financial instruments for traders to choose from.
Naturally, it's imperative that the trading platform/s meets expectations vis-a-vis range of financial instruments, user-friendliness, speed of execution, and flexibility. AvaTrade South Africa features a variety of top-tier trading platforms for registered clients. These include MetaTrader 4, MetaTrader 5, AvaOptions, DupliTrade, and ZuluTrade. The following features and functions have been listed by traders as important when choosing trading platforms:
Understand your trading needs and requirements
As a trader, it's important to take stock of the financial instruments of interest to you. AvaTrade SA offers CFD trading options on a wide range of markets, including Forex, Cryptocurrency, ETFs, Indices, and FX Options. Each of these financial instruments features prominently, with competitive leverage/margin requirements, low spreads, and the option to buy or sell at your leisure.
Trading preferences: PC, Mac, and mobile
Nowadays, South African traders prefer the benefits of virtual trading on PC, Mac, and mobile devices. Fortunately, AvaTrade complies. You can trade with each of the featured platforms on your choice of devices. MetaTrader 4, ZuluTrade, and DupliTrade are readily available in demo mode tool.
Features of Trading Platforms
What types of accounts are available to you as a retail trader or professional trader? Account types are important insofar as they meet with your personal needs. For example, AvaTrade SA offers Islamic accounts, demo accounts, and professional trading accounts. Other special features include hedging and netting, and there are no restrictions in terms of scalping and short-selling. AvaTrade SA provides client money protection with segregated accounts. However, in South Africa, there is no deposit compensation scheme in place.
Charts, Graphs, Tutorials, and e-Books
AvaTrade platforms are packed with features, allowing for interactive charts, graphs, tutorials, and e-books. As a beginner, you are privy to a step-by-step guide to trading currency pairs, including automated trading, vanilla options, and CFD trading. Video tutorials provide expert tutelage on using the trading platforms, including advanced trading strategies. For forex traders, AvaTrade goes the distance with a complimentary book on Forex strategies.
Regulation, Banking, and Integrity of Personal Information
In South Africa, AvaTrade deposits and withdrawals can be conducted via ABSA Bank for wire transfers. There are no fees on credit card transactions, wire transfers, or e-payments. The minimum credit card payment, or e-payment is R100, and the minimum deposit via wire transfer is R500. In SA, AvaTrade's operations are authorised, supervised, and managed by the FSCA
Compare AvaTrade Platforms in South Africa
Forex trading has evolved dramatically in the last 15 years. The formerly restrictive barriers have been broken down, so that it is avno longer just reserved for the high net worth or institutional traders. Nowadays you can trade online from the comfort of your own home. You need only have a small starting deposit and access to the internet and you can trade freely. In order to get access directly to CFD trading, you will need to use a trading platform. Good brokers will give you a selection of best trading platforms South Africa as your gateway to the capital markets. Often, as with AvaTrade South Africa you will be given a Web based platform, a desktop (download) version and a mobile trader too. A good Forex broker will also furnish you with a selection of trading tools and educational resources.
Trading platforms give you the ability to open BUY and SELL positions on a variety of different assets. A good platform will give you access to advanced charting. Charting facilities will allow you to follow the markets in real-time and sometimes will give you historical data too. You will be able to add studies and indicators too in order to detect trends, reversals, patterns and hopefully entry and exit points and even generate signals. The purpose of all of these tools is so that you may incorporate trading strategies into your everyday trading. When looking for a platform the following points are the most important when choosing a platform to work with:
Accuracy of data
Competitive spread
Speed of execution
User-friendliness
Customisability
Built-in or installable analysis tools
It may be wise to test out a platform before you use it for trading live. To that end, we have given our traders the opportunity to open a demo account. That will allow you to test drive all platforms first and see which you gel with. A trader really only can be as good as the tools he uses. That's why it is important to work with a platform that has very little downtime, which executes trades very quickly and is simple enough to use.
About Trading Platforms
In essence, a trading platform is software that links the trader to the broker and also to the relevant markets. Our platforms offer live trading charts, real-time price quotes, and order types that are executed by us, your broker. At AvaTrade ZA you have two options:
1) Using trading software that can be downloaded to your local computer and used directly by you. This software is compatible with Windows, Mac and Linux operating systems.
2) The other type is the web based trading software that is run on Java (a popular web language). Highly favoured and accessible from any place that has an internet facility.
We offer platforms for all levels of trader with diverse functionality levels that offer more complex functionality to traders that are more experienced.
We also provide third party software for additional tools that allow programme interfaces called APIs. These are offered to you:
At no additional costs
As additional trading features
Order interfaces
Historical data
Convenient user interface
Our Leading Platforms
Take a look below at our selection of leading forex platforms
Compare Avatrade's Best Trading Platforms
Platform
Details
Min. Deposit
MetaTrader4

The world's most popular trading platform
Embedded expert advisors and indicators
Free demo account

AvaOptions

Trade 40+ forex pairs, gold & silver call and put options
Use embedded tools incl risk manager
Free demo account

$1,000
ZuluTrade

Wide selection of top traders to follow
Use the forex signals received on leading trading platforms
Free demo account

$500
MetaTrader 5

Latest and most popular multi-asset platform globally
Unlimited symbols, 44 Graphical Objects and 38 technical indicators
Direct access to Economic Calendar
2 additional tabs in Market Watch with option to view Swaps
New Future Orders – Sell Stop Limit and Buy Stop Limit
Embedded trading robots and Expert Advisor (EA)
Access to copy trading

DupliTrade

Innovative auto-execution mirroring system based on signals from experienced traders
Wide selection of strategy providers
No manual intervention required
Fast trade execution and easy to use
Direct access to real-time trading data and historical logs
Free demo account

$2000
AvaTrade South Africa presents a wide-selection of trading platforms for both manual and automated trading. We believe in empowering our traders to make the right choices and feel comfortable in their trading environment. We are confident that you will find a platform that is best suited to your trading style and level of trade knowledge. We recommend you visit our trading for beginners section for more articles on how to trade Forex and CFDs.